Rajasthan SSO ID Register online at sso.rajasthan.gov.in portal | How to register / Create RAJASTHAN ID | Forgot SSO ID in a simple process…
What is Rajasthan SSO ID?
SSO means Single Sign On. With time, all the services provided by the private or the government sectors are now digitalised. The state of Rajasthan is also not lagging behind the race.
Rajasthan government has developed a system by which its citizens can get most of the services online. For this, they have to create SSO ID.
Single Sign On Identification (SSO ID) is a kind of online identification account, It contains the information like Aadhaar card, ration card, PAN card etc. for each and every individual. Every individual has to create a separate ID for this.
If you want to avail any government service online, you need to create an SSO ID for yourself. Without it, the government is not going to provide you any service online.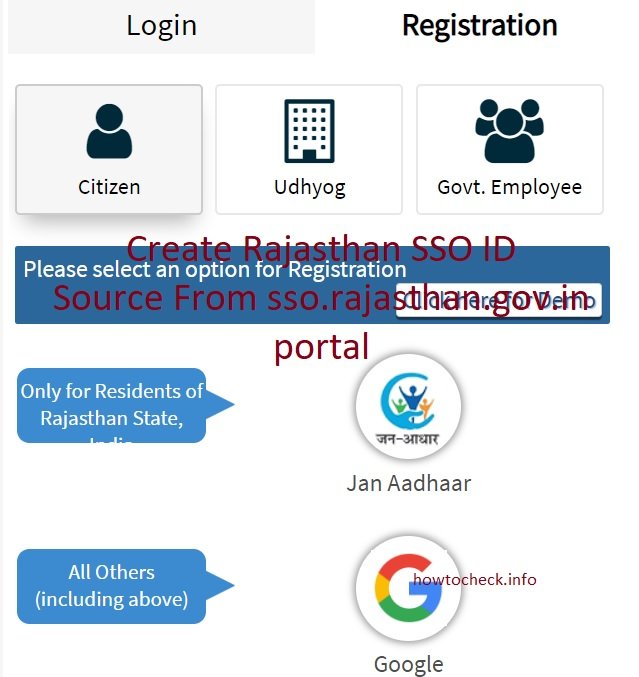 From taking admission online in any private institution to applying for job, one need to have an SSO ID.
How to create Rajasthan SSO ID?
Well, one can easily create an SSO ID himself/herself. But before creating you must know that there are some documents that might be required for creating the ID. Some of them are: –
1. Any document showing that you are a permanent resident of Rajasthan.
2. Bhamashah Card
3. Aadhaar Card
4. Udhyog Aadhaar (For Industry)
5. Google Login details
6. SIPF ID
7. BRN Number for Industry
Steps to create SSO ID: –
1. Visit the official portal of the sso.rajasthan Official website
2. On the main page, you will be able to see two options – one for login and the other for the registration.
3. Those who have it already can RAJASTHAN SSO ID login from here. But those who want to register on the portal, has to click on the ling of SSO 'Registration' tab.
4. One can register oneself with help of either of the two options – 'Bhamashah ID' or 'Jan Aadhar Card'. Choose either of the two options. But, if you don't have both of these IDs, you can choose Google account to proceed.
5. Whatever method you are choosing, make sure that your mobile number is registered with your Aadhaar card. Register yourself after that by filling in some basic details. Just remember that for Industries person registration is possible through UAN/BRN and for Government Employees, employee ID needs to be used.
6. Once you are successfully registered, you will receive a mail from RSMSSB SSO. The mail contains a link with the help of which you can change the password.
| | |
| --- | --- |
| Website Name | Rajasthan Single Sign On – Government of Rajasthan |
| Website | sso.rajasthan.gov.in/signin |
| Topic | How to create Rajasthan SSO ID |
| How to | Register Rajasthan SSO ID |
How to change the credentials of the Profile after creating SSO ID?
One has to login to the SSO ID portal and can easily update the details. The ID details cannot be changed for sure. But other details like mobile number, gender, name, date of birth, telephone number, address, postal code, district, etc. can be changed.
Who can register for Rajasthan SSO ID?
As the name suggests, those individuals who are permanent residents of Rajasthan can login to the portal. But the good news is that, those who are not domicile of Rajasthan can also create the SSO ID. Those students who wish to apply for any Government Job or want to avail some Government service can