Login to SBI HRMS portal – check and download or print the monthly SBI salary slip now available and also Pensioners to download your 'Pension slip'.

SBI HRMS
State Bank of India has provided a HRMS portal that offers multiple benefits to all their employees. This portal acts as a large medium to the SBI employees where they can get information related to their work and salary.
Employees can visit the portal and check the details related to their employment like pay slips, pension schemes, leaves, loan provision, and other SBI related information (events).
The SBI HRMS has eased the way of following up on every employee detail on salary. SBI employees and ex-employees can directly visit the portal and avail all the features. They can also apply for loan and get information related to the existing loans from the portal.
You don't have to visit HR or employer office location to get a loan. The system is applicable to all private and public organizations which helps in uniting employees of a particular firm.
One of the most important features that is used frequently by all the SBI employees on HRMS portal is to check or download their salary slip.
In this page, we have helped you with the steps to check your salary slip and download it (if needed).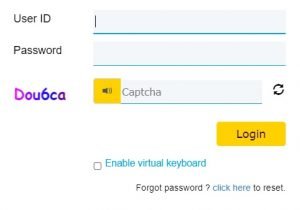 How to download or view SBI HRMS Salary Slip?
SBI employees can 'check your Salary Slip Online' at SBI HRMS Portal hrms.onlinesbi.com...
Visit the official SBI HRMS portal hrms.onlinesbi.com
From the homepage, click on the login button that is located at the top right corner.
Enter the login credentials like user ID and password of your SBI HRMS account.
Enter the captcha as shown in the image and tap Login.
Click on the option My Salary Slip.
You will be redirected to a new page where you need to enter the month and year for which you want to generate the salary slip.
Next click on the Submit button.
In the next page, you'll need to select yes to confirm the details.
You will be redirected to the page where you can view the salary slip on screen and you can tap Print option to download the same.
How to download or view SBI HRMS Pension Slip?
'Check your SBI Pension Slip Online'
Login in SBI HRMS provides benefits to not only the current employees but it also helps pensioners and ex-employees. If you are retired employee and looking to download salary slip from SBI HRMS portal, you can follow the below steps.
Login to the SBI HRMS portal by visiting the link hrms.onlinesbi.com
Tap Login button that is located at the top right corner.
Enter your SBI HRMS User ID and Password.
Type the captcha as displayed on the screen and tap Login button.
You will be redirected to your account homepage where you can find various option like salary slip/pension slip.
Select Pension slip option.
You will get multiple option like relevant policies and salary slips of relevant month.
You can select the month for which you need the salary slip.
Once done, you will be able to see the salary slip in the next page.
If you want to download it, tap Print option.
Finally If you have any questions or unable to download the salary slip, you can visit SBI HRMS help portal by visiting hrms.onlinesbi.com.
Thank you For visiting . . .