Meesho Supplier Login and Registration
In today's world, everyone wants to make a little extra money. One of the most popular methods that many individuals have come up with is earning money online. For this purpose, various e-commerce platforms have emerged to let people sell their items and earn some extra cash. So, if you're one of those people looking for a reliable e-commerce platform, then Meesho is the one for you.
Meesho:
Meesho is a popular, successful, and self-prepared e-commerce site in India. This site is gaining a lot of attraction country wide and every day, thousands of people visit Meesho's website.
Meesho Supplier:
Meesho Suppliers supply their products to the company, and then focuses on those products to run their company. After that the customers reuse these items and resell them on social media or internet platforms or any other site of their choice.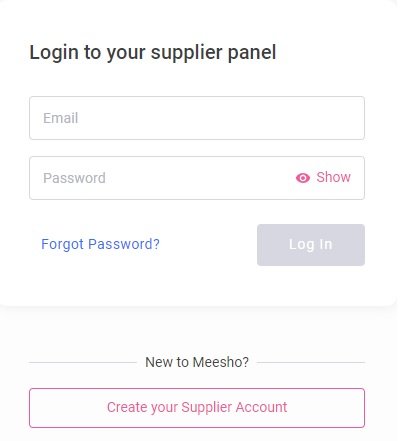 Meesho Supplier Registration:
Many people are registering with Meesho because the portal's registration process is quick and easy. Currently, it has over 22000 suppliers registered. To do Meesho Supplier Registration, all you will need is your GSTIN, PAN card, and bank account information. Follow these steps to complete your Meesho supplier registration in no time.
Go to the Meesho Website.
On that screen, input your current phone number and click the 'Start Selling' button.
As soon as you click, the Meesho application form will appear in front of you.
Enter your mobile number first, then select the Send OTP option.
An OTP will be sent to your phone number through SMS, which you must enter below.
After that, click the Create Account option and input your email address and password.
You must next complete the form in four steps.
Fill in your GST details and click the Verify button in the first step. Click the Continue button once the GST number has been verified.
Entering information about the pickup address is the second stage. Address, pin code, street, apartment number, state, and city are just a few examples.
You'll need to fill out your bank account details in the third step.
Fill in the bank account details for the individual whose name appears on the GST number; payment will be paid to that account.
The fourth phase will need the submission of information on supplies details.
To complete the Meesho Supplier Registration, click the proceed button once you've submitted all of the essential information.
| | |
| --- | --- |
| Website name | Meesho Supplier |
| Register / Create account | supplier.meesho.com |
| Topic | How to login into Meesho Supplier website |
| Keyword | Meesho Supplier login |
Meesho Supplier Login:
Meesho Supplier Login allows you to sell your products and other items online. The first stage is the registration process. Following the instructions below, the user would be able to log in to the Meesho supplier.
To get started, go to supplier.meesho.com
Now on the login page, provide your email and password.
Click on the login option.
Why should you go with Meesho?
There are a lot of benefits to using Meesho. Some of them are below.
Delivery: Meeshooffers delivery support so that you can focus on selling.
Lowers the Returns: Meesho's portal ensures that the returns are low so that the sellers can earn a large profit.
Easy payment: Meesho provides sellers with safe and quick payment alternatives.
By providing an easier way to sell, Meesho has successfully transformed countless lives.